---




Mom's Cut-out Cookies

I can't have a cut-out cookie recipe section without including my Mom's recipe. This is the very first cut-out recipe I ever tried making, and I have many fond memories of decorating these cookies at Christmas time with my family. It is a tasty recipe, but doesn't quite hold it's shape as well as I like. Below this recipe you will find my altered version that is easier to handle and holds it's shape a little better.

1 C. shortening
1 1/3 cups sugar
2 tsp. vanilla
2 eggs
3 cups sifted flour
1 tsp. salt
2 tsp. baking powder
2 T. milk

Cream shortening, sugar and vanilla. Add eggs, beat well. Sift flour, salt, and baking powder; Stir into creamed mixture along with milk. Chill for several hours or overnight. Roll on lightly floured board to 1/4" thickness. Cut into desired shapes.

Place on parchment lined cookie sheets and bake at 375 for 10-12 minutes.

My Version of Mom's Cut-outs:

Substitute half of the shortening for butter (If using salted butter, omit 1/2 tsp. of the salt) Decrease the baking powder to 3/4 tsp.




Karen's Sugar Cookies

1 cup salted butter
2 1/2 cups powdered sugar
2 eggs
1 1/2 tsp. vanilla extract
1/2 tsp. almond extract
1/4 tsp. baking soda
1/2 tsp. cream of tartar
3 cups flour

Cream together butter and sugar. Add eggs and extracts and beat until light and fluffy. Sift together flour, soda and cream of tartar. Add to creamed mixture and mix just until combined. Divide dough in half. Wrap each half in plastic wrap and flatten into a disk. Refrigerate several hours or overnight. Roll to about 1/4" thickness, cut with cookie cutters, and place on a baking sheet lined with parchment paper. Bake in a preheated 350 degree oven for about 10 minutes.




Cream Cheese Cookie Cut-outs

1 cup butter
1 8-oz package cream cheese
1 1/2 cups granulated sugar
1 egg
1 tsp. vanilla extract
1/2 tsp almond extract
3 1/2 cups flour
1 tsp. baking powder

Beat butter and cream cheese until well combined. Add sugar; beat until fluffy. Add egg, vanilla and almond extract; beat well. In a small bowl, combine flour and baking powder. Add dry ingredients to cream cheese mixture; beat until well mixed. Divide dough in half. Wrap each half in plastic wrap and refrigerate several hours.

Preheat oven to 375 degrees. Roll dough to 1/4 inch thickness. Into desired shapes and place on parchment lined cookie sheets. Bake 8-10 minutes, or until edges are lightly browned.




Cinnamon Spice Cookies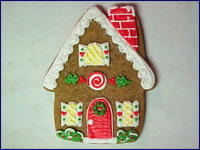 1 1/2 c. butter
2 cups packed brown sugar
1 egg
4 cups all-purpose flour
2 tsp. cinnamon
1/2 tsp. nutmeg
1/4 tsp. cloves
1 tsp. ginger
1/4 tsp. baking soda

Cream butter and sugar. Add egg. Beat until light and fluffy. Stir flour with spices and soda; add to creamed mixture. Mix well. This is a stiff dough. Divide dough in half. Flatten each half into a disk and wrap in plastic wrap. Refrigerate several hours or overnight. Roll out to 1/4 inch thickness. Cut into shapes. Bake at 350 degrees for about 10 minutes.




Chocolate Minichip Cookies

(from "Sugarbaker's Cookie Cutter Cookbook")

1 C unsalted butter
1/3 C granulated sugar
1/2 C packed light-brown sugar
2 t vanilla extract
1/2 t salt
1 large egg yolk
2 1/2 C bleached all-purpose flour
1 1/2 C semisweet chocolate minichips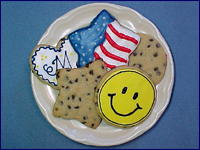 In a large bowl beat the butter, sugars, vanilla, and salt till creamy. Beat in the egg yolk. Gradually add the flour and beat until thoroughly combined. By hand, stir in the chips. Turn dough onto a large piece of plastic wrap or reclosable plastic bag. Chill in the refrigerator for 30 min. Preheat oven to 350F. Lightly flour the work surface and rolling pin and remove half the dough from the plastic. Rewrap and refrigerate the other half. Roll dough to 1/4" thickness and cut out. Bake 10-12 min. or till golden brown. Cool on sheet for 5 min. and then transfer to wire rack. The cookies will harden and become firm enough to decorate as soon as the warm chocolate has cooled and hardened; about 30 min. Makes approx. 3 dozen 3" cookies/ can easily be doubled.

Note: I have made these with salted butter and omitted half of the salt and they turned out wonderfully. Also, I only use 1 cup of chips.




White Chocolate Sugar Cookies

2 1/4 C all purpose flour
1 t baking powder
1/4 t salt
1/2 C butter, softened
1/3 sugar
1 egg
1 t vanilla extract
6 oz good white chocolate

Preheat oven to 350 degrees. In small saucepan over low heat, melt the white chocolate and set aside. In small bowl, whisk together the flour, baking powder and salt (so they're well combined) and set aside.

In large mixer bowl beat butter and sugar until creamy. Blend in egg and vanilla extract. Beat in melted white chocolate. Gradually beat in flour mixture until soft dough forms. Shape dough in ball; flatten to 3/4" thickness. Wrap in plastic wrap; refrigerate 15 minutes until firm.

On lightly floured surface, roll out dough to desired thickness. Bake until edges are golden. Let stand 2 minutes. Remove from cookie sheets and cool completely.

Note: This recipe is an exception to my "refrigerating overnight" rule! You must be able to roll and cut them after the 15 minute refrigeration time, or they set up too much and won't roll out well. This dough is a dream to work with. You'll love it.




Lemon Cut-outs

2 3/4 cups flour
1/2 tsp. baking powder
1/2 tsp. baking soda
1/4 tsp. salt
1 1/2 cups sugar
1/2 cup butter, softened
1 egg
1/3 cup lemon juice
1 tsp. grated lemon zest

Sift together flour, baking powder, baking soda, and salt. Set aside. In large mixing bowl, beat sugar and butter until fluffy; beat in egg. Gradually add dry ingredients alternately with lemon juice. Mix well. (Dough will be soft). Cover and chill overnight in refrigerator. Preheat oven to 375°. Roll out cookies on a well-floured surface. Cut with floured cookie cutters. Place on parchment lined baking sheets. (If not using parchment paper, you will need to grease your pan). Bake 8-10 minutes. Cool on wire racks.




The Best Sugar Cookie

I found this recipe online somewhere (can't remember where!). There's no doubt this is a very good recipe! BUT... I don't recommend them if you need to ship the cookies or if they need to be stacked and handled a lot. Since they are so light and tender they are very fragile.

1 1/2 cups powdered sugar
1 cup butter
1 egg
1 teaspoon vanilla extract
2 1/2 cups flour
1 teaspoon baking soda
1 teaspoon cream of tartar

Mix butter, sugar, egg and extract. Then, gradually add baking soda, flour and cream of tartar. Chill for at least two hours. Roll out on lightly floured surface and use cutters. Place cutouts on baking sheet and bake for six to eight minutes at 375 degrees. Cool and then decorate.




Meringue Powder Buttercream

1/3 cup water
3 T. meringue powder
1/2 cup shortening
5 1/2 cups powdered sugar
1 tsp. vanilla extract (use clear vanilla if you want a pure white icing)
1/4 tsp. almond extract

Beat water and meringue powder until stiff peaks form. Add shortening, sugar, and extracts and whip for 3 minutes. Store well covered.

Note: I have had a lot of problems with tiny lumps in this icing, which prompted me to experiment to see if I could eliminate the problem. My theory is that the lumps were being caused by the meringue powder mixing with the water and then drying on the sides of the bowl. So, what I came up with is this:

Sift half of the powdered sugar with the meringue powder, and place in the bowl of a large mixer. Turn on mixer (use whip attachment) and, while mixing the sugar, slowly stream in the water. Let it mix, until everything is incorporated. Avoid scraping the bowl down if you can. When stiff peaks form, add flavorings and mix well. Then add remaining powdered sugar and shortening and whip for 2-3 minutes more. Hopefully you will have a lovely, lump-free icing!




Royal Icing

3 T. meringue powder
4 cups (1 pound) powdered sugar
6 T. water
1/2 tsp. vanilla extract (use clear vanilla if you want a pure white icing)
1/4 tsp. almond extract

Beat all ingredients together until stiff peaks form (about 10 minutes). To vary the consistency, add water to thin and add powdered sugar to thicken. To thin the icing for a good base coat consistency, add water a few drops at a time and stir. Keep doing this until a drop of the icing disappears into the rest of the icing at the count of ten. It should be about the consistency of sour cream.




Powdered Sugar Glaze

4 1/2 cups powdered sugar
6-7 T. milk
1 tsp. vanilla OR almond extract

Blend ingredients together until smooth. Divide into bowls and tint with paste food coloring.

Note: This icing is very versatile. You don't really need to measure. Just mix it to the consistency you prefer for glaze. It can also be thickened with more powdered sugar to do outlines in a pinch.




---